OUR STORY
AuroraCottage offers an easy way to spend your holiday in high-class cabins or suites in the best locations of Ylläs area in Lapland, Finland.
A luxurious villa or a cozy cabin? By choosing AuroraCottage you can be sure that you will have a carefree vacation. Our carefully selected cabins and apartments provide a happy place to stay during your holiday in Ylläs. Our accommodation in Äkäslompolo and Ylläsjärvi ranges from log cabins to modern scandinavian style apartments and anything between. All the cabins are well equipped and located in the best spots in Ylläs. 
About Ylläs
Ylläs is a unique holiday destination offering experiences throughout the year. With its seven fells, eight seasons, the longest slopes and numerous possibilities for outdoor activities, Ylläs is the number one holiday destination in Finland. By choosing Ylläs you will get the purest air in the world, snowy winter wonderland, safe and secure surroundings and beautiful nature. From your cabin window you can even spot a reindeer, a fox or a Siberian Jay. 
In Ylläs there are hundreds of kilometres of cross-country skiing tracks to choose from. There is also a wide range of guided activities for example husky or reindeer safaris, snowmobile tours, Northern Lights tours, snowshoeing, winter cycling and many more. All the equipment and clothing needed for outdoor activities can be rented as well. A good amount of outdoor activities combined with rest in a comfortable environment ensures that you will feel like a new person.
QUALITY ACCOMMODATION. PERSONAL SERVICE. A HOLIDAY TO REMEMBER.
How we started
AuroraCottage is a company run by siblings Helena and Jonne. Lapland and especially Ylläs has been an important base for our family for generations. Although our roots are in Southern Finland, Lapland has always had a special place in our hearts. After spending several years in Kolari, Lapland, Jonne got an idea to establish a rental agency platform for cabins. In 2017 AuroraCottage was founded and we started with just a couple of cabins. The selection of the cabins has since grown and nowadays our selection covers over 50 premium cabins and apartments.
We aim at providing memorable holidays in cozy and well equipped cabins at the heart of incredible Lappish nature. We are satisfied when our customers tell us they had a wonderful holiday. That makes us happy too. Our visitors return year after year, so we believe that we have succeeded in our goal.
We wish that everyone has a chance to experience the incredibly beautiful Lappish nature at least once in a lifetime. At the same time we want to make sure that the nature of Lapland remains pure also for the next generations. Sustainable development and responsibility are important values ​​for us. Respecting nature and an ecological lifestyle are a matter of course for us. We strive to do our work better all the time and contribute to the well-being of all of us by following these values ​​in our business.
JONNE
I have inherited my passion to run a business and trade from my parents and grandparents. During my life I have sold everything from Christmas trees to jewellery and from doors to windows. I am an incurable idea bank having fresh and innovative ideas every day. I love to communicate with people and often my days are filled with conversations with customers and cabin owners. I have a family with a wife and three small children, so there isn't a silent moment in a day. To balance everyday I spend my free time playing tennis or floorball, fishing or skiing. Spending time in my cabin has been one of my favourites since childhood. For me, it is a place of tranquility and idea creation.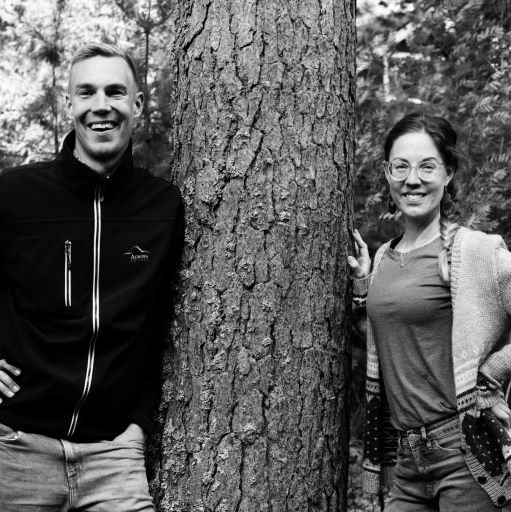 HELENA
Since AuroraCottage was founded I've been backing and sparring my brother Jonne. During the year 2021 I made a decision to become a partner and work for the company full time. Today I'm grateful I had the courage to make the decision. My competence combined with Jonne's strengths create a perfect combination to run and develop the business. My background is strongly with marketing, digital development and customer experience, and with AuroraCottage I'm able to combine these strengths. I love hiking as well as gardening and my spare time is full of activities with my two little boys. To balance my busy life I have some dear hobbies like yoga, skiing and reading and of course spending time in our cottage in Lapland.
Do you own a cabin in Ylläs and are you interested in renting it?
Send us a message to info@auroracottage.com. We are happy to tell you more about our service.
CUSTOMER SERVICE
Matters related to maintenance or cleaning are primarily handled by the property's maintenance or cleaning company, whose contact information you can find in the guest folder. If the problem cannot be solved that way, you can always reach us by email at info@auroracottage.com or by calling +358 41 3188 683.